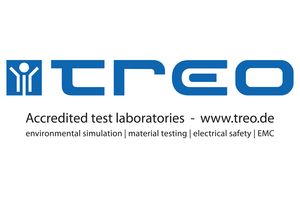 Treo - Labor für Umweltsimulation GmbH
Treo is an independent service provider for product and component tests with a special focus on companies in the shipbuilding and marine industry.
With both test laboratories accredited according to DIN EN ISO/IEC 17025 in Hamburg and Neumünster, Treo carry out tests according to industry standards and individual customer requirements in the field of environmental simulation and EMC.
Main Objectives
EMC
Environmental simulation
Type approval tests
Testing laboratory
Component testing
Broad test spectrum
e.g. climate, vibration, corrosion, waterproofness and EMC
Especially adjusted testing equipment for shipbuilding applications
e.g. for compass safe distance and inclination tests
International accepted
Both laboratories were DNV GL certified until DNV GL stopped the certification process of laboratories. Of course Treo still has the same competence and therefore Treo's tests are fully recognized by DNV GL and the other classification societies.
Individual Service
For each challenge our team develops the optimal testing procedure
Back to Overview