ZeroEmission@Berth: Winners awarded in three categories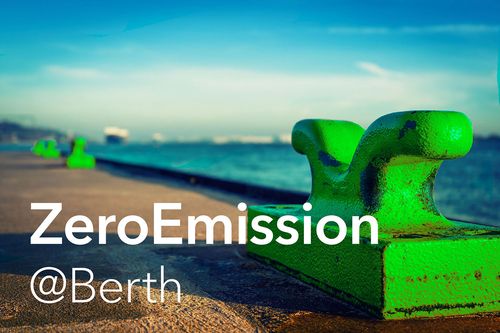 The winners of the ZeroEmission@Berth innovation competition, organised by nine German seaports, have been chosen: during the "Sustainable ports: together, clear, clean" trade event ("Nachhaltige Häfen: gemeinsam, klar, sauber") at the German Shipping Day ("Deutscher Schifffahrtstag") in Bremen on Thursday, three companies from three European countries were awarded for their innovative solutions for reducing air pollutant and carbon dioxide emissions when supplying energy to ships in port.
In Category A: Concepts, the award went to the Norwegian company TECO 2030 AS. With its Power Barge based on fuel cell technology, the company aims to bring to market a mobile, floating zero-emission power supply for ships at berth or at anchor. "A key aspect is that we look holistically at ports and the general conditions there for using our technology," emphasised Fredrik Aarskog, the company's Business Development Manager – Hydrogen Technology, at the award ceremony. Moreover, the system is not only suitable for use in ports or at anchor, but also for ships in motion.
The winner in Category B: Prototypes is CMB Germany GmbH & Co. KG, a subsidiary of the Belgian CMB Group. CMB has developed dual-fuel and mono-fuel applications for the emission-free and emission-reduced onshore power supply of ships at berth. "What's innovative is that you can continue to use an existing technology – the diesel engine, but convert it to hydrogen," explains Benjamin Weinacht, Managing Director of CMB Germany. "We're taking into account the fact that hydrogen is not yet immediately available everywhere, as the engines can continue to generate electricity with diesel during the transition phase."
The winners in Category C: Existing Solutions are the Danish companies Ballard Power Systems Europe and CS electric A/S. Their jointly developed and already certified product, FCwaveTM, supplies ships with emission-free energy from hydrogen. The fuel cells can be installed in 20-foot containers and, thanks to their very low noise level, are also highly suited for port environments. "Our approach was to use an existing zero-emission technology in a new environment – ports, which are looking to become more environmentally friendly in future," says Thomas T. Petersen, Product Line Manager Marine at Ballard. "The solution has great potential, also because it can be scaled up quickly," adds Gert Andersen, Senior Sales Manager at CS electric.
The winners of the competition managed to beat a competitive field that totalled 30 entries from 14 countries. They successfully impressed the seven-member panel of industry experts the most with their ideas. Peter Moller, project manager at the Maritime Cluster Northern Germany (Maritimes Cluster Norddeutschland, MCN) says: "Managing such a project always holds surprises. I was also surprised by the variety of different approaches. This proves that decarbonising the maritime industry is taken very seriously as an issue, and that we're likely to see numerous implementation projects in Germany and beyond the country's borders."
The initiators of the ZeroEmission@Berth project are the port infrastructure companies for Germany's seaports: Rostock Port, Seehafen Wismar, Port of Kiel, Niedersachsen Ports, Jade Weser Port Wilhelmshaven, Lübeck Port Authority, Hamburg Port Authority, Brunsbüttel Ports and bremenports. In their joint policy document on 'ZeroEmission@Berth', they call for fair competitive conditions for all market participants, technology neutrality and the polluter pays principle.